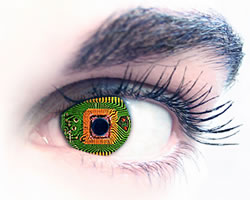 Eye on AI
One definition of artificial intelligence is offered by the Association for the Advancement of Artificial Intelligence -- "the scientific understanding of the mechanisms underlying thought and intelligent behavior and their embodiment in machines".
Another definition I found sums up artificial intelligence as: "intelligent behavior in machines".
My own oversimplified version is "reasoning machines".
If I understand AI correctly, the ability to reach a new conclusion from what I have learned is one faculty that separates me from most "intelligent" machines today.
What is intelligence?
Artificial intelligence is difficult to describe because as humans, we still have not clearly defined what intelligence is. What is it that makes us, or any entity intelligent? Is it simply the capacity to acquire and apply knowledge? Is it consciousness? If so, can computer software be intelligent, a robot self-aware?
Is it possible for a machine to have intelligence?
The idea of self aware machines has inspired many Hollywood movies, but don't expect to see a robot with the desire to be human any time soon. The human brain is just too complex. For artificial intelligence to become a reality, much will need to be learned in the areas of psychology, neuroscience, cognitive and computer sciences and more.
I found the AI depot to be an excellent source for introductory information on artificial intelligence.