Cloning

A Clone Again, Unnaturally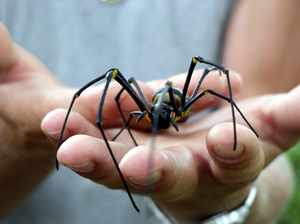 Cloning scares me. Then again, so do spiders. What I found after my brief research into this area of biotechnology, is that there are different types of cloning. And just like spiders, there are some types of cloning that I should be wary of, but many may be considered beneficial.
There are plenty of moral and ethical concerns associated with cloning. A good understanding of the basic science and processes that lay behind cloning and what they can do, will help us make better decisions regarding its use.

What is Cloning?
Cloning is an umbrella term to describe different processes for duplicating biological material.
When the media report on cloning in the news, they are usually talking about only one type called "reproductive cloning". There are different types of cloning however, and cloning technologies can be used for other purposes besides producing the genetic twin of another organism.
A basic understanding of the different types of cloning is key to taking an informed stance on current public policy issues and making the best possible personal decisions.
Reproductive Cloning
Reproductive cloning is a technology used to generate an animal that has the same nuclear DNA as another currently or previously existing animal. Dolly was created by reproductive cloning technology.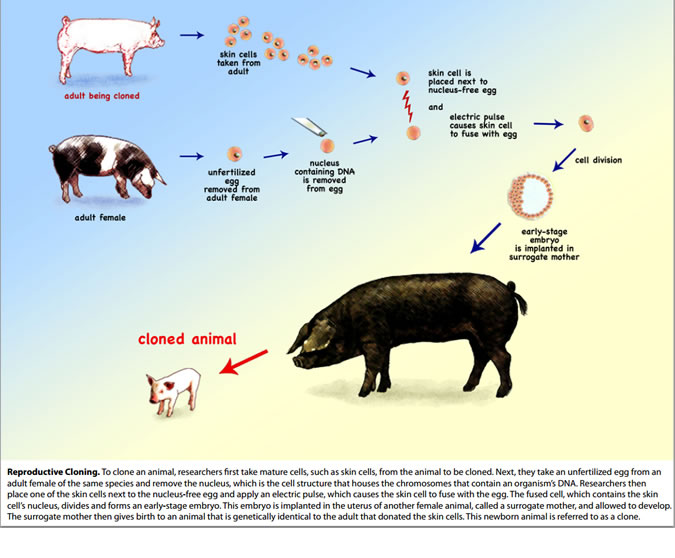 Therapeutic Cloning
Therapeutic cloning, also called "embryo cloning," is the production of human embryos for use in research. The goal of this process is not to create cloned human beings, but rather to harvest stem cells that can be used to study human development and to treat disease.
DNA Cloning
The terms "recombinant DNA technology," "DNA cloning," "molecular cloning" or "gene cloning" all refer to the same process: the transfer of a DNA fragment from one organism to a self-replicating genetic element such as a bacterial plasmid. The DNA can then be propagated in a foreign host cell. This technology has been around since the 1970s, and it has become a common practice in molecular biology labs today.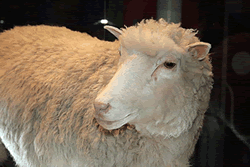 Cloning Animals
Farmers and ranchers are cloning animals for the same reason they selectively breed them, to reproduce better livestock. This type of cloning is an assisted reproductive technology that allows livestock breeders and others to create identical twins of their best animals. This breeding technique does not change the genetic make-up of the animal.

Cloning Humans
Should humans be cloned? Physicians from the American Medical Association and scientists with the American Association for the Advancement of Science have issued formal public statements advising against human reproductive cloning. With so many unknowns concerning reproductive cloning, the attempt to clone humans at this time is considered potentially dangerous and ethically irresponsible.

Ethical Concerns of Cloning
The announcement of Dolly sparked widespread speculation about a human child being created using somatic cell nuclear transfer. Much of the perceived fear that greeted this announcement, centered on the misperception that a child or many children could be produced who would be identical to an already existing person. This fear is based on the idea of "genetic determinism" -- that genes alone determine all aspects of an individual -- and reflects the belief that a person's genes bear a simple relationship to the physical and psychological traits that compose that individual. Although genes play an essential role in the formation of physical and behavioral characteristics, each individual is, in fact, the result of a complex interaction between his or her genes and the environment within which he or she develops.
Source: Genome.gov

Cloning Articles, Blogs and Web Sites
All Links open in a new window. Bold = Recommended
References
Article
Sources
A Clone Again, Unnaturally
Article by ffa
Image is licensed photo from istock.com
What is Cloning?
Article paraphrased from ornl.gov Infographic from Genome.gov
Dolly
Image from Wikimedia Commons