Lassos in Space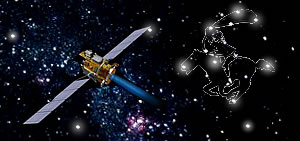 Roping cattle takes skill and finesse, but imagine trying to lasso a satellite in space. Now, imagine flinging the satellite up to a higher orbit to actually launch it!
That's what a small business in Bothell, Wash., is planning to do. The researchers and engineers at Tethers Unlimited Inc. are not cowboys, but they are developing unique lassos. Their "lassos" are new systems that will be used to capture and launch spacecraft.
The tether is a long string or wire deployed in space from a spacecraft. These tethers can be used in different ways to move satellites or spacecraft in space.
The "lasso" concept is similar to a giant sling that would rotate as it orbits the Earth. The craft, ballast and tether increase orbital momentum and energy for boosting the payload to a higher orbit.
"It could swing down, pick up a spacecraft in low orbit and carry it up and toss it into a higher orbit," said Rob Hoyt, Tethers Unlimited president.
Read the complete article at NASA